China will become world's biggest insurance market by mid-2030
China's ageing population will mean more sales of annuity products and health insurance
China's insurance premiums will reach US$2.36 trillion in 2032, says Swiss Re Institut
China's insurance market will quadruple in 14 years to US$2.36 trillion, on the way speeding by the US, currently the world's leader, according to Swiss Re Institute.
Insurance premiums will hit US$2.36 trillion in 2032, up from about US$575 billion in 2018, the Zurich-based re-insurance company said Thursday. The US market is worth about US$1.47 trillion.
"Asia is the place to be [for insurers]," said Jerome Haegeli, Swiss Re Group's chief economist. "The region and its engine of growth are driving different sectors of the industry."
China's strong economic growth, high government spending, increased consumer awareness and technological innovations will transform it into the world's largest insurance market by the mid-2030s, Haegeli said.
The institute said it isn't certain which year China will overtake the US as the world's largest insurance market.
China's share of the world's insurance market is expected to double from 11 per cent in 2018 to about 22 per cent in 15 years' time. In 2018, the US accounted for 28 per cent of the global insurance market.
China's premium growth rates will be at least two times higher than global average in a decade, according to the Swiss Re report, while the overall emerging Asia market will expand by three times the world average over the next two years.
Retirement annuities – insurance products in which funds from working years are invested and later paid out in a lump sum or in smaller amounts on a regular basis in retirement – will be driven by the ageing demographics of China, the world's most populous country, with 1.4 billion people.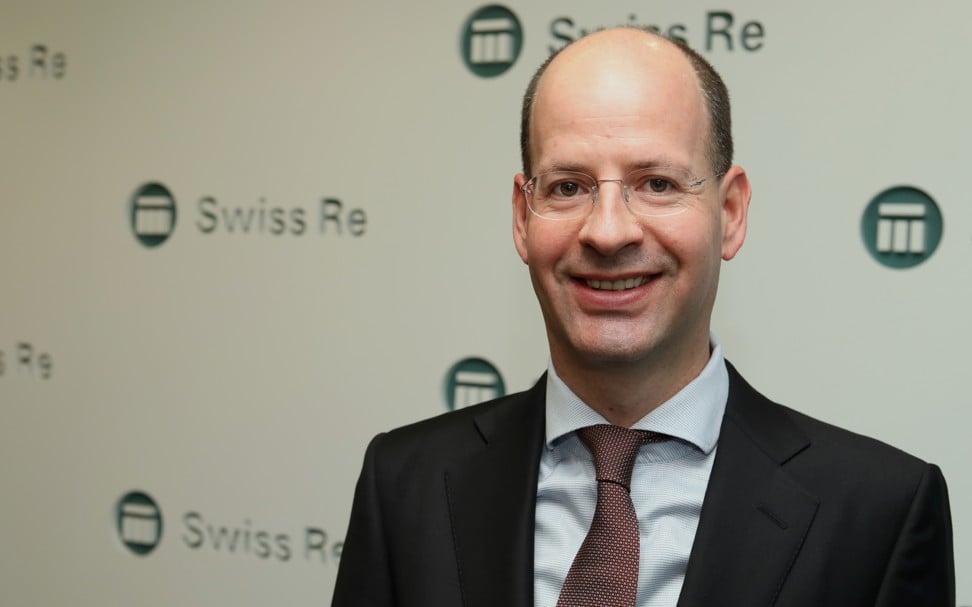 Jerome Haegeli, Swiss Re Group chief economist, says "Asia is the place to be" for insurers. Photo: Roy Issa
Share:
China is going to age extremely rapidly over the next decade, at four times the speed Europe aged in the past 100 years. That is due to the one-child policy enacted in 1979 and only loosened to allow couples to have two children beginning in 2016. Ageing parents are expected to buy insurance products to lessen the financial burden of their care needs on their sole child.
The so-called old-age dependency ratio – a measurement of those 65 and older as a share of those 15 to 65 – for China will be 50 per cent by 2055.
China's ageing population problem worsens as birth and marriage rates fall
An ageing population is enormously disruptive to a country because the workforce shrinks.
But as mainland Chinese have greater incomes, they will buy more insurance products.
Health-related insurance is also expected to see growth in the country.
"As the current China market lacks holistic medical systems for the general public, many people would turn to insurers to protect themselves from potential dangers such as food safety or causalities," said Gordon Tsui, managing director of Hantec Group Hong Kong.
To get a piece of China's booming insurance pie, insurers must leverage on technology. In recent years, insurance companies and tech platforms have entered partnerships for this reason.
Chinese insurer Ping An, for example, tops the list of global firms investing in so-called InsurTech start-ups and is ahead of any other market players in emerging markets.
Digital distribution channels are increasingly important for insurers' market growth, although traditional channels will not be eliminated any time soon.
"In China, the products will increasingly be marketed and distributed on the WeChat platform and I expect the countries of Asia moving towards this business model [in terms of online distribution]," said Haegeli.
China has been at the forefront of InsurTech solutions, thanks to flexible regulations allowing insurers to partner with technology companies.
Last month, French insurer AXA introduced a one-click travel insurance plan through WeChat Go, the app ecosystem dedicated to international tourism, at every step before, during and after a user's trip.
Meanwhile, Hong Kong-listed company AIA launched a new online sales platform that will enable customers to buy insurance products in three minutes.
China is increasingly opening up its insurance sector foreign firms.
"Foreign firms accounted for around 6 per cent of the insurance premiums market in China in 2017," said Haegeli. "However, in 2018, the percentage of equity that foreign investors are permitted to hold in life insurance companies was raised from 50 per cent to 51 per cent. In 2021, this restriction will be lifted completely."
Tsui of Hantec said the increased role by foreign insurers will heighten competition among the domestic players.
"This then drives local market players to further enhancing their competitive edge, such as producing more innovative digital features or rolling out more plans customised to different sectors," Tsui said.
More insurance opportunities are expected out of the coming Greater Bay Area, which includes measures to encourage insurance companies in Guangdong, Hong Kong and Macau to jointly develop innovative cross-boundary car and medical insurance products to allow policyholders in both markets to easily buy products and make claims.
The plan will also support Shenzhen in developing a pilot zone for development in insurance innovation.
"The population in the Greater Bay Area tends to have higher quality of life and a higher awareness in insurance," said Tsui. "This would certainly drive stronger demand in the market."
Author: Joanna Lam  via South China Morning Post
Content retrieved from: https://www.scmp.com/business/article/2189033/china-will-become-worlds-biggest-insurance-market-mid-2030s-speeding-past.